Children's Dentist in Salt Lake City, UT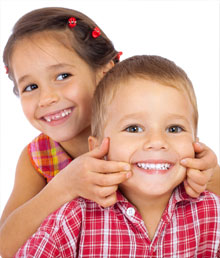 One of the most important things we can do for your family is to make sure your child's smile is healthy. Dr. Walker offers a complete children's dentistry program with an emphasis on prevention. We strive to educate kids on the importance of good oral health and overall wellness, giving them a bright and confident smile.
Development and Children's Dentistry
Many parents ask us what to expect with regard to kid's dental development. While every baby is different, there are multiple dental milestones that all children experience. Teeth will begin to erupt between the ages of 4-6 months. Normally, we see the two bottom incisors first, followed by the two upper incisors. Molars are the last to come in, and then your child will have a complete set of primary teeth, most commonly called baby teeth, by about 3 years of age. As you baby is cutting teeth, we suggest you gently wipe baby's gums twice a day with a moist, soft rag to keep the mouth clean.
Why is Children's Dentistry So Important?
While baby teeth are only a part of your child's life for a short period of time, they play a very significant role. Not only do baby teeth help them chew nutritious foods, they reserve space for adult teeth and help guide them into place, aid in speech development, and create confidence through an esthetic appearance. In addition, baby teeth that are decayed and infected can cause damage to the permanent teeth below, setting the stage for a lifetime of dental problems. This makes a good children's dentistry program a vital part of a healthy lifestyle.
Your Baby's First Children's Dentistry Visit
We suggest you bring your child into our office for the first time around age one for a quick exam. As your child grows, plan for them to attend six-month checkups. We make children's dentistry visits lots of fun for little ones; we'll even give them a ride in the chair, letting them know that our Salt Lake City family dentistry office is a place they can feel comfortable and cared for. The dentist and hygienist will help you learn how to brush, floss, and generally care for your child's oral health. We may recommend dental sealants or fluoride to deter tooth decay, and some children could need interceptive orthodontics to pave the way for a straight, strong, healthy smile in the future. If you notice any problems with your child's mouth, call our family dental office in Salt Lake City immediately – and as always, feel free to ask questions!
Contact us for your family dental appointments, including children's dentistry, today. Our caring team of professionals will provide you and your family with the gentle care you expect and deserve.