ClearCorrect Clear Aligners in Salt Lake City, UT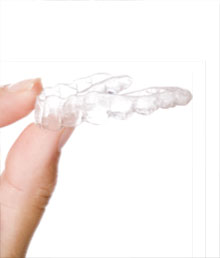 You don't have to look like a middle school student just because you want straight teeth. Dr. Walker offers ClearCorrect orthodontics for image-conscious adults. This system utilizes clear acrylic aligners that exert gentle pressure in order to move teeth into proper position. The aligners are removable, so you can easily take them out to clean your teeth, eat a meal, or fully enjoy occasions when your smile will be in the spotlight – no wires, bands, brackets, or mouth sores required!
What is ClearCorrect?
ClearCorrect orthodontics is a perfect option for many older teens and adults. This innovative system straightens teeth without the embarrassment and discomfort of bulky, metal braces. Through a series of custom, transparent aligners, ClearCorrect will shift teeth into the optimal position. What are the benefits of ClearCorrect?
Comfortable
Nearly invisible
No food restrictions
Simple to clean
No irritating metal or bands
Easy to remove and replace by patient
Only six to 18 months of treatment instead of 2+ years
Few checkup appointments
Few to no adjustments
How Does ClearCorrect Work?
When you visit our Salt Lake City family dentistry practice for ClearCorrect treatment, we take an impression of your teeth. This image is then sent off to the ClearCorrect lab where a model of your teeth is made. Dr. Walker uses this model to plan your treatment and design your customized clear aligners.
Once you have your aligners, you'll wear them all day for about two weeks, only removing them to eat, brush, and floss. After 14 days, you'll switch to the next aligner. You'll begin to see the difference as each aligner straightens your teeth a little more. You'll come in to see Dr. Walker about every three weeks so we can check your progress and make sure that your treatment is on track.
Schedule Your ClearCorrect Consultation
Even close up, most people won't notice that you're wearing ClearCorrect aligners. At your consultation, we'll present practical options that will yield optimal results without compromising your image. Dr. Walker may also recommend other cosmetic dentistry treatments to boost your smile and your confidence. Contact our Salt Lake City family dentistry office today for your appointment and start straightening your smile the clear way today!