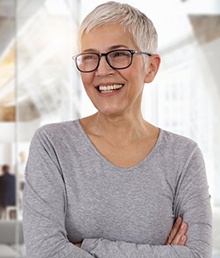 If you've lost teeth, your self-confidence and oral health will suffer. Fortunately, you don't have to deal with these problems for long. Modern dentures are designed to look and feel like natural teeth. You'll once again be able to chew, speak, and smile with confidence, knowing that your teeth will serve you well. Whether you are new to dentures or are considering replacing an existing set, Dr. Charles Walker can help give you a brand-new smile with dentures in Sugar House.
Types of Dentures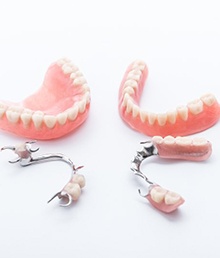 Depending on the number of teeth you're missing as well as the state of your oral health, we may recommend one of three kinds of dentures:
Partial Dentures
A partial denture can be used to replace several missing teeth in a single arch. Partials consist of prosthetic teeth attached to a gum-colored base. This removable prosthesis attaches to your remaining teeth using a metal framework and clips that seamlessly blend in with the rest of your smile.
Full Dentures
If you need replacement teeth on the upper and/or lower arch, Dr. Walker can create full dentures for your unique mouth. The pink acrylic base stays in place thanks to a natural suction against your gums. For extra security, some patients use a small amount of denture adhesive.
Implant-Retained Dentures
Over time, your gum ridges may wear down, which increases the potential for slippage. Implant-retained dentures offer a way to stabilize your prosthesis. They work by using dental implants to anchor the prosthetic. Dental implant posts are first placed into the jaw; they require a certain amount of bone density in order to heal properly.
The titanium posts naturally integrate with the body through a process called osseointegration, which creates a strong foundation for your dentures. Once healed, your denture simply clips onto the dental implant posts, creating a stable, attractive smile. Partial dentures can also be anchored with dental implants.
Cost of Dentures
There is no fixed amount of money you can expect to pay for dentures. Your price will vary based on a number of factors, such as how many teeth you're missing and whether you're securing your denture with dental implants. Luckily, most dental insurance plans will at least partially cover your denture cost. Our practice is a preferred provider for many insurance companies, including Delta Dental, BlueCross BlueShield, and Aetna. We can also help you fund your new smile with a low-to-no interest loan through the third-party financing company CareCredit.
Types of Dentures
Dentures have been around for centuries, giving people with missing teeth a chance to enjoy restored smiles that look and feel better than ever. Whether you are missing multiple teeth along an arch or an entire top or bottom row, there are three types of dentures you and your dentist can choose from:
Partial Dentures: Secured using metal clasps or clips, these look like a puzzle piece that fits comfortably within your smile to fill in the gaps left behind by missing teeth.
Full Dentures: Created using an acrylic base and artificial teeth, these are meant to replace an entire top or bottom row of teeth and are secured in place with your natural suction.
Implant-Retained Dentures: Considered the most expensive upfront option, this type of restoration is held in place by 4-6 dental implants, which are surgically placed into your jawbone.
What Are the Stages of Receiving Dentures?
From the initial consultation to the fittings, it is possible to receive affordable dentures that do not lack in quality. We will capture impressions of your teeth to ensure your restoration is created using the most accurate blueprint. Then, you will undergo the initial fitting once we receive your dentures in our office. This requires your dentist to make necessary adjustments to ensure a comfortable fit.
If you are receiving implant-retained dentures, the additional steps of undergoing surgical placement as well as any necessary pre-implant dental work (i.e. tooth extraction, periodontal therapy, bone grafting) are taken into consideration when crafting your customized estimate.
Are Dentures Worth the Investment?
If you were to ask the millions of people who have received dentures, you would most likely hear they are certainly worth the investment. This tried and true solution has been used for centuries, and most dental professionals continue to provide them as a safe, affordable option for tooth replacement. Dentures are crafted from durable materials that make them appear more natural than those used even 20 or 30 years ago. Patients who wear dentures can expect a strong prosthetic that stands up to daily wear and tear and provides the confidence needed to speak and eat when surrounded by others.
Does My Dental Insurance Cover Dentures?
Most dental insurance companies provide available coverage for dentures. While they may not be the entire amount, most will pay a portion of the total cost, making it a much more affordable option. Dr. Walker is a preferred provider for Delta Dental, BlueCross BlueShield, and Aetna. He also offers third-party financing through CareCredit, which allows eligible individuals to apply for low and no interest payment plans.
If you choose to receive implant-retained dentures, you may find that your dental insurance company will not cover the surgical placement, but they will cover your restoration or any pre-implant dental work. Should you have questions about your coverage or alternative ways to pay, our team of qualified staff is here to help.
Contact Dr. Walker to schedule your appointment, consultation, or second opinion visit today. We can provide you with a comprehensive assessment of your oral health and let you know what type of denture or other restorative dentistry procedure is right for you. Our Salt Lake City family dentistry practice is conveniently located for patients all over the greater metropolitan Salt Lake Valley.
Denture FAQs
If you're looking for a fast, reliable, and cost-effective way to bring back your beautiful smile, dentures in Salt Lake City may be for you! Thanks to modern dental technology and high-quality dental materials, these classic restorations are now more lifelike and comfortable than ever before. For your convenience, we've gathered some common questions about dentures below so you can learn more.
Can Anyone Get Dentures?
Dentures have helped countless people regain their complete smile, and there's a good chance they can help you too! However, you need to be in good oral health to be considered a good candidate. It's important that your mouth is healthy before you get dentures to ensure your new smile is comfortable and successful. Once we've addressed any tooth decay, gum disease, or teeth that need to be extracted, we can move on to replacing your missing teeth.
Do Dentures Have to Be Kept In Water?
To keep your dentures securely in place, they're precisely crafted for your unique mouth. The base of full dentures will form a close fit with your gum ridge to create a firm suction, while partial dentures fit seamlessly between your remaining teeth like a puzzle piece. While they're made of durable, high-quality materials, they may warp or bend if allowed to dry out. If this happens, it can prevent your dentures from fitting well and make them uncomfortable to wear. That's why it's important that any time you take your dentures out, you store them in water or cleaning solution.
Will Wearing Dentures Irritate My Gums?
Modern, properly fitting dentures should never cause any gum irritation. However, your mouth will naturally change shape over time as a result of tooth loss. Since your dentures can't change with your mouth, they will eventually lose their close, comfortable fit. Once they've lost their fit, they won't sit on the gum ridge correctly, which can cause irritation. You should always give us a call right away if your new smile ever starts to bother you.
How Many Hours a Day Should I Wear My Dentures?
No one wants to be caught without their teeth, but it is important that you remove your dentures occasionally in order to give your gums a rest. For the first week after getting your dentures, we recommend that you wear them all day and night to help your mouth adjust. Then, you should start taking them out every night, brushing them off, and storing them in a glass of water or cleaning solution overnight.
How Long Do Dentures Last?
The average lifespan of removable dentures is between seven and 10 years. Then, you'll need to come visit us to have your dentures readjusted or replaced. The lifespan of your dentures can be extended with the proper care, so be sure to clean them regularly and handle them carefully.
On the other hand, implant-retained dentures can last much longer. Since this type of denture is anchored directly into your jawbone, it should never feel loose as long as you take care of it. In fact, most patients can expect their implant-retained dentures to last a lifetime!