Dentures & Partials
If you've lost teeth, your self-confidence and oral health will suffer. Modern dentures are designed to look and feel like natural teeth. You'll once again be able to chew, speak, and smile with confidence, knowing that your teeth will serve you well. Whether you are new to dentures or are considering replacing an existing set, Dr. Walker can help give you a brand new smile.
Partial Dentures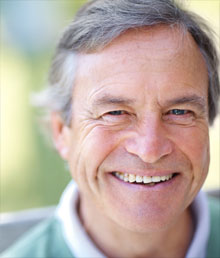 A partial denture can be used to replace several missing teeth in a single arch. Partial dentures consist of prosthetic teeth attached to a gum-colored base. Removable partial dentures attach to the teeth using a metal framework and clips. A fixed bridge, often referred to as crown and bridgework, is permanently bonded to the teeth to prevent it from changing position.
Full Dentures
If you need replacement teeth on the upper and/or lower arch, Dr. Walker can create full dentures for your unique mouth. You may only need a partial denture if you're looking to replace multiple missing teeth on an arch. Partials fit like puzzle pieces into the gaps between healthy teeth, creating a complete smile. They're attached to hidden clasps on neighboring teeth. To secure full dentures, patients typically use adhesive creams or natural suction instead.
Implant-Retained Dentures
Over time, your gum ridges may wear down, which increases the potential for slippage. Implant-retained dentures offer a way to stabilize your prosthesis. They work by using dental implants to anchor the prosthetic. Dental implant posts are first placed into the jaw; they require a certain amount of bone density in order to heal properly.
The titanium posts naturally integrate with the body through a process called osseointegration, which creates a strong foundation for your dentures. Once healed, your denture simply clips onto the dental implant posts, creating a stable, attractive smile. Partial dentures can also be anchored with dental implants.
Why Choose Implant-Retained Dentures?
Implant-retained dentures have many benefits over traditional dentures:
Stops bone loss and jawbone atrophy
No more slipping or sliding
Eliminates embarrassing clicking noises
Allows for easier speech and chewing function
Can lead to better dental health and improved nutrition
Leads to more confidence in your prosthetic teeth
Contact Dr. Walker to schedule your appointment, consultation, or second opinion visit today. We can provide you with a comprehensive assessment of your oral health and let you know what type of denture or other restorative dentistry procedure is right for you. Our Salt Lake City family dentistry practice is conveniently located for patients all over the greater metropolitan Salt Lake Valley.