General & Family Dentistry Salt Lake City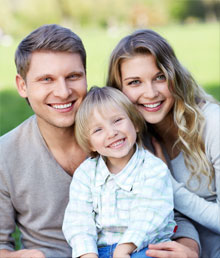 We know how busy Salt Lake City families are, and we also know how important it is for these families to keep their smiles healthy. At Confident Brilliant Smiles, Charles R. Walker, DDS and his dedicated Salt Lake City dentistry team work hard to make your family's dental care convenient and effective. If you're new to the area or looking for a dental office that can accommodate your entire family, please call our team. We would love to have the opportunity to show you how visiting our office can change the way you think of dental care.
Dental Checkups & Professional Teeth Cleanings
Each of our Salt Lak City dental patients receives a unique dental health care plan, but every patient needs to visit us at least twice a year for dental checkups and teeth cleanings. These preventive appointments give us the opportunity to evaluate your smile for warning signs of common oral health conditions in the earliest stages, so you will receive the most conservative treatment plans. Professional teeth cleanings dramatically reduce your risk for tooth decay and gum disease, and our friendly, knowledgeable dental hygienists will be happy to answer any questions you have about your at-home hygiene routine as well.
General Dental Care
Family and preventive dentistry also includes basic treatments that strengthen smiles and reduce risk for oral health concerns. Some of the general dental services we provide for our families include:
Dental sealants – a clear, protective coating applied to teeth that seals out bacteria and plaque, protecting smiles from decay
Fluoride treatments – for patients with chronic tooth decay and kids who are still developing their oral hygiene routines, we may recommend tooth enamel strengthening fluoride treatments
Periodontal charting – in order to diagnose and begin treating gum disease in the earliest possible stages, we complete periodontal charting during every checkup, so we know right away if you're at risk for gum disease
Dental education – kids and adults alike may have questions or need help understanding their dental treatment options, and we will always take the time to carefully explain your oral health concerns and possible solutions
Convenience & Comfort
We are all about our patients' comfort and convenience. We provide comfortable, state-of-the-art dental treatment facilities, so you'll feel completely at ease during dental care. In fact, from the first moment you walk through our front doors, you'll feel right at home. Our waiting area is well equipped to keep every member of the family comfortable and content during the short stop in our waiting room. To ensure complete convenience, ask our team about scheduling a block of appointments on the same day, so you will only need to make one visit to our office for the whole family. Additionally, we are open late on Tuesdays, so your kids don't need to miss school for their dental appointments. Whenever possible, we offer same day emergency care, and you can reach a member of our team outside of regular office hours, if you or your loved ones experience a dental emergency.