Salt Lake City Porcelain Veneers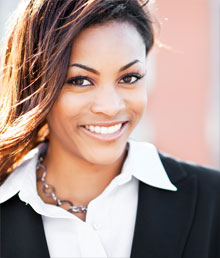 Not everyone is born with a naturally attractive smile. Not to mention, poor choices from the past, like bad dental hygiene and smoking, can further hurt its appearance. As a result, you live with low self-esteem, often hiding your teeth to avoid feeling judged. While it may seem like you do not have any options, your cosmetic dentist in Salt Lake City, Dr. Charles Walker has the solutions you need. With porcelain veneers or Lumineers, you will drastically improve their beauty for a confident smile.
Benefit from Porcelain Veneers
Porcelain veneers have quickly become one of the most preferred cosmetic treatments because it is a minimally invasive means to achieve drastic, lasting results. Veneers are thin shells that are bonded to the front side of the teeth to improve their size and shape. However, they also cover cosmetic flaws, allowing them to be very versatile.
You can use them to hide tough tooth discoloration that does not respond to whitening treatments for results that last because porcelain is stain-resistant. Not to mention, it closely mimics the appearance of enamel for a natural-looking smile.
Although the shells are thin, they can hide several imperfections, such as chips, cracks, and shorter than average teeth. In some cases, they can even be used to make the teeth appear straighter by hiding alignment issues.
In as little as two appointments, you will drastically improve the appearance of your teeth. During the first appointment, Dr. Walker will remove a small amount of enamel, less than what is required with traditional veneers because porcelain is thinner. Impressions are then taken, which are sent to the dental lab. Dr. Walker will attach temporary veneers while you wait for your new ones to arrive at our office. In about two weeks, we will bond them to your teeth to walk out of our office with a dazzling new smile.
Lumineers
Veneers can be a big commitment because you do have to permanently alter the structure and integrity of the teeth. If you want a less invasive option, Lumineers may be right for you. They offer the same benefits as veneers, however, the structure of the tooth remains unchanged.
They are made of porcelain so your smile will look natural while allowing them to be about as thin as a contact lens. This means enamel does not need to be removed during the bonding process. Although they are thin, they are strong, durable, and effective.
This is often the preferred choice for those who do not want to make a long-term commitment. You will achieve long-lasting and flawless results without having to permanently change your teeth's integrity.
Transform Your Smile Today
If you are tired of looking at unattractive teeth in the mirror, it is time to transform their appearance. Dr. Walker will evaluate the imperfections and help to determine if Lumineers or porcelain veneers in Salt Lake City are right for you. Contact our office today to schedule your consultation. We look forward to creating a confident, brilliant smile.