Restorative Dentistry in Salt Lake City, UT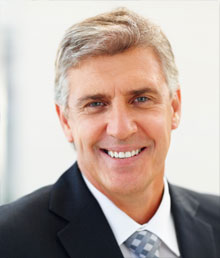 It's important to maintain a healthy smile through a good oral hygiene routine, as well as regularly visiting our Salt Lake City family dental practice. However, even the most diligent of patients can experience common dental health problems, such as cavities, cracks, infection, or even early stage gum disease. This is when restorative dentistry becomes necessary.
It's important to care for teeth as soon as possible to minimize the loss of natural tooth structure, which is why we provide the most conservative restorative dentistry treatment possible. Restorative dentistry techniques are now less invasive, and modern prosthetics are designed to look and feel more like a natural tooth. In fact, our metal-free restorative dentistry practice in Salt Lake City offers tooth-colored fillings and BruxZir Solid Zirconia crowns that preserve your all-white smile and blend seamlessly with your existing teeth.
Should you or your family need a restorative dentistry treatment, you can rest assured that Dr. Walker will inform you of all your treatment options, plan a comprehensive treatment plan, and provide you with recommendations for what he believes is are most conservative options for your smile. We strive to offer every patient exceptional care and service, so if you have concerns about a course of treatment, we encourage you to ask questions.
Learn more about some of our restorative dentistry services below:
Sedation and Restorative Dentistry
Dr. Walker and his team are caring dental professionals who understand that a gentle touch is necessary. However, we also know that some patients may feel anxious or nervous about visiting the dentist. For those who require additional relaxation to feel comfortable in the dental chair, Dr. Walker offers oral conscious sedation for anxiety control.
The process is simple – a very safe prescription medication will be provided to you the night before your appointment along with instructions for when to take it. Once the sedation begins to affect you, you will feel calm and relaxed. This will allow Dr. Walker to perform the restorative dentistry procedures needed for good oral health and overall wellbeing while still allowing you the highest level of comfort possible. If you choose oral conscious sedation, it will be important for you to arrange for someone to bring you to and from your appointment.
Restorative Dentistry Appointments
We encourage you to make an appointment to visit our Salt Lake City family dentistry office right away if you are experiencing pain or discomfort. In addition, if you haven't seen a dentist within the last six months, please call us today. Your oral health is important to your wellbeing and we want to make sure both you and your smile stay healthy!